environmental protection for the concrete industry
challenge us!
TRUST IN OUR COMPETENCY AND CUSTOMER ORIENTED THINKING
Basics

- following scheme will give you a brief system description

Please enlarge this thumb to get an overview of what we do. The guaranteed future of your investment is based on the modular design of our installations. These may be anytime easily extended to your newest requirements.
YOUR BENEFITS:
Intensive consultancy
Short response time
Industry experience
Turnkey installations
"Vital Parts" on stock
High flexibility
Customized solutions
Optimised components
After-sales-service

trade fairs
media
machinery and installations

RE_X 02

Waste concrete reclaimers for the next generation. Compact and at reasonable prices, best suited for small standalone solutions, recommended as recycling unit for treating the wash down from small concrete mixers. or as an additional small unit for a large recycling plant at the washing place for the bullet skip, or the sawing/polishing station. For further details please contact us per email.

RE_X 26Z

The construction sites for the Olympic Park in London are using environmental friendly produced concrete – made possible by using amongst others the ecofrog® technology.
ecofrog is green and experienced
WE ARE THE SPECIALIST
in concrete reclaiming and water treatment for all kind of concrete production sites. The company headquarter is located in Altlußheim a small town near Heidelberg. We focus on the design, construction and installation of custom made recycling plants in the adjacent workshop with the attitude "made in Germany". Our company has been certified in accordance with DIN EN ISO 9001:2015 and DIN EN ISO 14001:2015. The experienced and dynamic team of ecofrog is composed of specialists with a huge reservoir of experience in recycling of green concrete. Together with our reliable partners in most of the European countries we would be happy to assist in working out a scheme for a recycling plant for your company.
WE ARE HAPPY TO ASSIST YOU
We specialize in the design and construction of custom made, turnkey recycling plants for the concrete industry. The most important system components are: Waste green concrete reclaimers, water clarifying silos, filter presses and neutralization systems with individually for the customer adapted control units and additional equipments.
PLEASE SEND US YOUR ENQUIRY!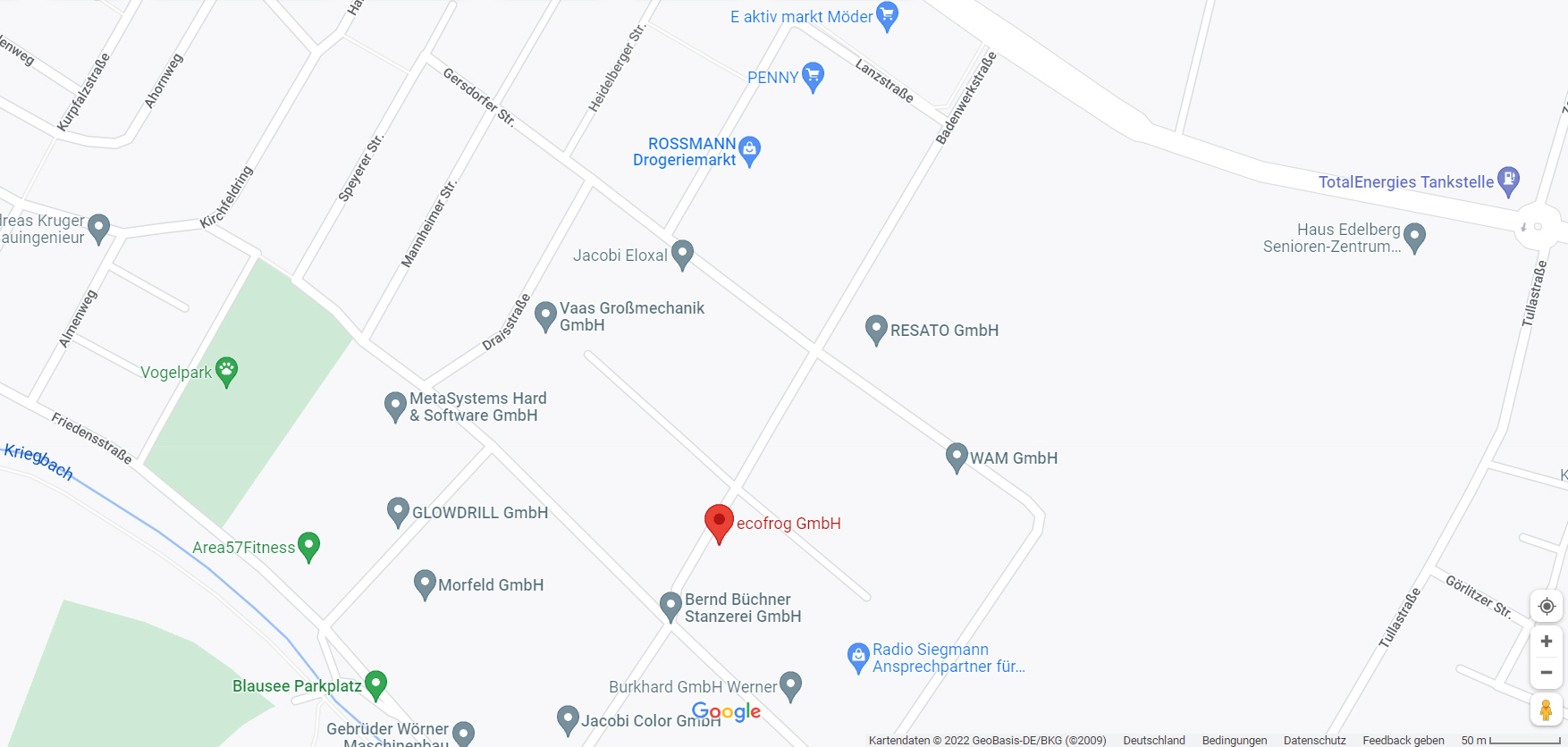 ecofrog GmbH
Dornier Str. 2
68804 Altlußheim
Germany

FON: +49 6205 20482-0
FAX: +49 6205 20482-22
Mail: info@ecofrog.eu
Update cookies preferences